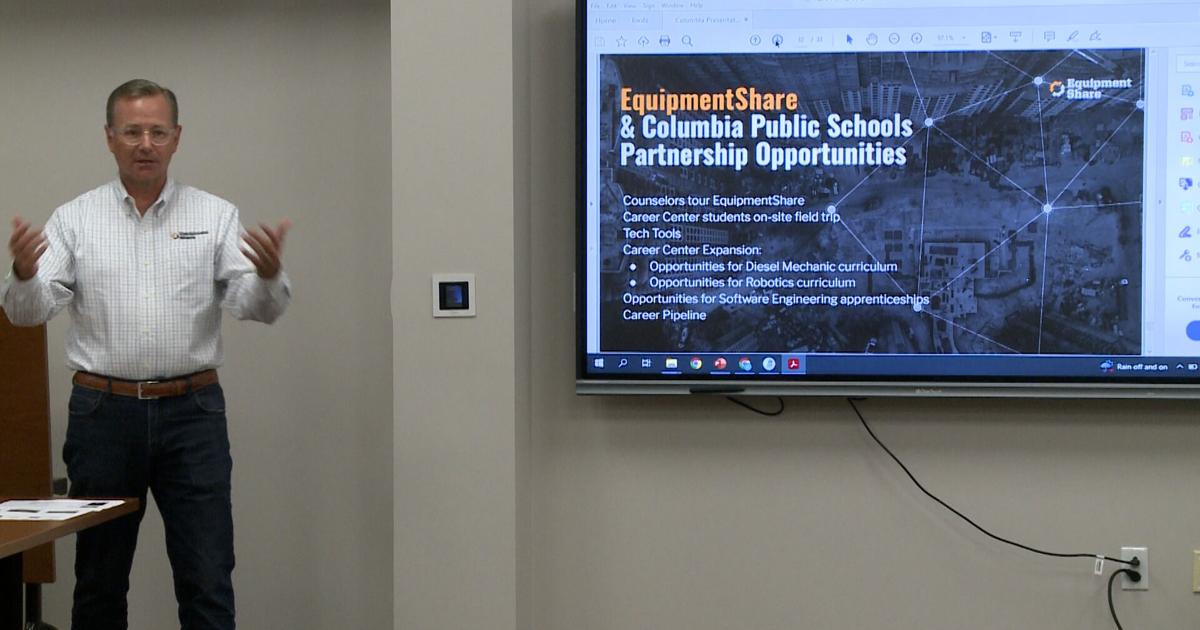 EquipmentShare Presents Property Tax Reduction Proposal to CPC Finance Committee | Central Missouri News
COLOMBIA – Colombia-based technology and construction rental company EquipmentShare has presented its proposal to Columbia's public schools finance committee for a 75% reduction in its property taxes to build a 120 millions of dollars.
The proposal would bring $2.38 million in tax revenue to various tax districts in Boone County. More than $2.02 million would go to CPS, Boone County's largest property tax recipient.
"All of this additional revenue, additional employment and additional community impact is also very important to CPS because we get revenue in other ways," said Heather McArthur, CPS Chief Financial Officer.
EquipmentShare has partnered with Regional Economic Development, Inc. (REDI) to file Chapter 100 Industrial Development Bonds through Boone County. To apply for Chapter 100 obligations in Colombia, a company must invest at least $100 million in a new facility to qualify for the 75% rebate sought by EquipmentShare.
The company estimates its project will cost $120 million, creating about 111 jobs and making Columbia's headquarters its flagship headquarters. At least 100 of those jobs must pay at least 110% more than Boone County's average hourly wage of $23.94, which equates to $49,791 in annual salary.
"For those of you who've been to St. Louis or Kansas City and seen the Centene or Cerner buildings, we're talking about that type of building," said Brian Treece, vice president of strategy and development of EquipmentShare, while leading the presentation. "Something that we can all be proud of and that frankly sends a clear message that Columbia is a great place to work, start a business, and succeed in business."
According to the presentation, EquipmentShare currently employs 417 people at its Columbia headquarters, a significant portion of its 3,500 employees in branches nationwide. The company hopes the new building will not only help retain those employees, but also create up to 100 high-paying, highly-skilled jobs in robotics, engineering and analytics at a research and development facility. This is in addition to various other jobs created in other areas of the business, such as customer service, information technology, legal services, marketing and fleet management.
"A lot of this incentive program specifically wants to try to create more jobs in Colombia," McArthur said. "So if we get more people to Colombia, we get more jobs, that's more kids in our school district. Also, there's also more people building houses, more people spend money in our community, and that none of that counts in calculating the actual number of how much money we're going to get over the next 10 years, solely from EquipmentShare's personal assets. "
The company also plans to propose a partnership with CPS if the proposal is approved. This partnership includes field trips, opportunities to expand diesel mechanics and robotics curricula through EquipmentShare's hopeful career center, and potential apprenticeships in software engineering, creating pipelines of career for students to accept full-time positions in the company.
"It's a great opportunity for students to be able to do internships in some of these different fields like engineering and robotics," McArthur said. "It's a great experience for one of our students to be able to partner with organizations like this to get that real-world experience before they graduate from high school."
The CPS is considering the proposal as it prepares to enter a period of deficit spending after building up a fund balance of 38% in recent years. A recent decision in Blankenship vs. Franklin County (2021) prevents Missouri school districts from levying a higher property tax rate than voters approve.
The CPS estimates the decision will cut $10 million in annual revenue for the district's budget going forward, and the only way to recoup that revenue is to present a rate increase in an election ballot. The CPS last introduced a ballot referendum increasing property tax collection rates in 2016.
"Of course, 80% of our budget comes from salaries and benefits," McArthur said. "And so that really limits the amount that we can continue to spend on salaries and benefits and increasing compensation for not just our teachers, but all of our employees, our hourly employees, to try to continue to to offer competitive salaries for all of our employees in the district, and we employ approximately 3,000 employees in total, so that's a significant impact.
But rising property values ​​have given CPS a $4 million surplus in its 2021-22 school year budget, contributing to the fund balance the district will use in the near future.
EquipmentShare's proposal must receive final approval from the Boone County Commission. The company plans to present its proposal to all tax entities that would be affected. He will then share his presentation at the CPS school board meeting on Monday.
A REDI spokesperson said EquipmentShare aims to know the fate of its proposal by the end of the month. The company would be the seventh to receive Boone County Chapter 100 bonds since 2005.