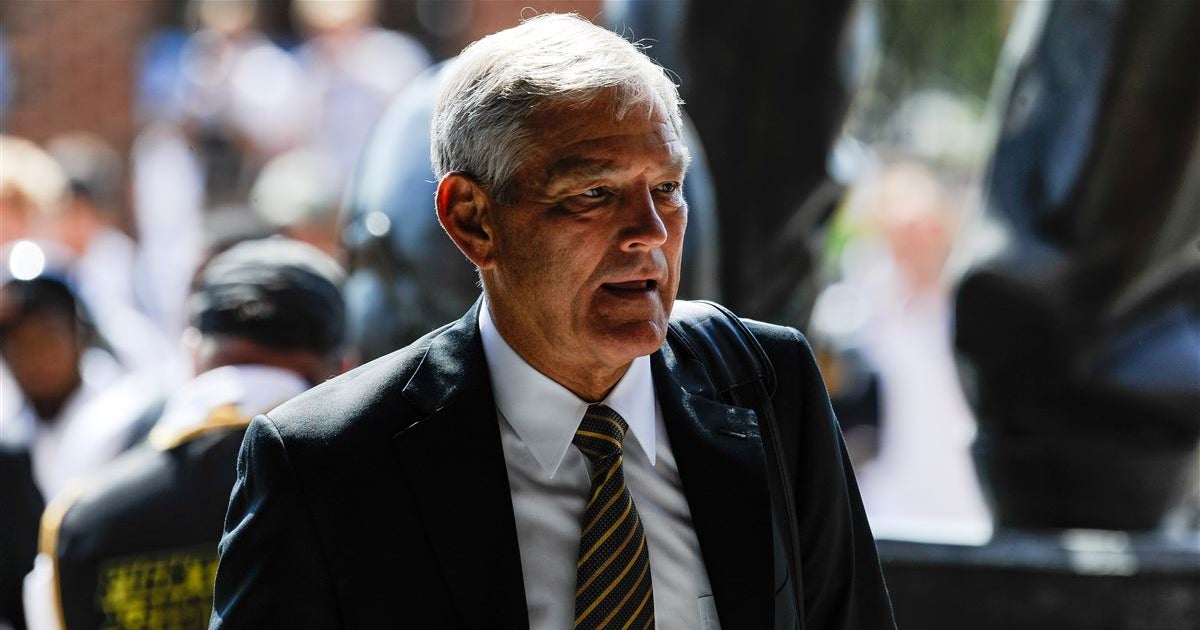 Everything Kirk Ferentz Said Before Colorado State
Q. With Kyler back in the mix when he's in good shape, what do you think inside the offensive line, what kind of spin you might have in the future?
KIRK FERENTZ: We'll find out, but the good news is now I think we have guys who can play, and a month ago I wasn't sure, or two months ago for sure. You just wondered about a lot of things. And at that point, before Kyler gets hurt, Linderbaum and Schott are two things you think you can count on. I felt like we had a pretty good idea of ​​how they would react. So we have a lot more evidence now. If there is a blessing for someone to be excluded, it gives other guys the opportunity to prove that they can belong and do certain things. And, again, we are seeing improvement in the practice, which makes me feel better. I think we all feel a little bit better just when you watch him in a movie, hey this guy starts seeing it a little faster, hitting a little faster and that kind of stuff, things that these veteran guys are already doing. Its good.
I mean, during my time as a coach at any level basically, but especially at the college level, if you have seven or eight guys you can get into a game and feel confident, boy, you are. in good form. And, yes, we approach that way. We are not there yet, but we are approaching. I think it's realistic to think that's a possibility, and maybe we can come up with new. It would be pretty good. My first year in college football was at Pitt in 1980, and I swear to God we had five really good players. We had a sixth guy, we ran two guards. After that it was Jim Sweeney, who was a true freshman, who had a great NFL career, but at that time he weighed around 219 pounds from South Catholic High School. It was the mutt. There were two other guys. One went to Penn State; one went to Tennessee, then Jim came to Pitt. He was the best of the three. But whatever. No one knew. But he was our seventh guy. Just a little puts things in perspective. I carry this with me all the time when you start to get nervous about certain things.
Q. Rather rare that you rotate six receivers. It is usually four.
KIRK FERENTZ: Yeah.
Q. What prompted you to expand this?
KIRK FERENTZ: Much like the online chat earlier, it just depends on who – what's the level, and if you've got three guys here and everyone there, those three are playing. But it's really pretty close right now. Arland and Keagan, they're young guys, but they're doing some encouraging things. If someone does start to really split up, we'll probably lean a little more to the left or right. But at the moment, I think we have a pretty healthy situation. We are seeing good things. It's good to see a guy like Jackson Ritter step in and do some plays; did another one the other day, right? These are encouraging things. These are subtle little things that will hopefully help us build as we go.
Q. I think it was the first game I can remember in a while when you haven't run Wildcat. I just want to make sure it's not dead.
KIRK FERENTZ: No, it's not dead. Willie the Wildcat is always wandering somewhere in our playbook. I haven't even noticed that. But you are right. Yes, we still have it.
Q. Is it ideal for you that you continue with like having six guys competing like that or do you prefer the guys to solidify and say we know who our four or five are?
KIRK FERENTZ: If we have six that we can put in the game, that's great. And it will play out as it goes. But we don't have a master plan at the moment. We kind of play it week after week, day after day. As long as these guys train well, they'll continue to be in there, and we'll see how it all works out.
Q. Rarely have you used a real freshman near the ball like this except for Tristan, who is otherworldly in many ways, but Connor Colby gets a lot of shots and most of all on guard. He probably projects more outside the future sage. But what did you see of him and how did he go about it, at least the rotation, if not difficult to start snaps at one point?
KIRK FERENTZ: It's a bit like the two first year receivers. Since they've been here, they seem to be adapting. They act like they belong. Doesn't seem overwhelmed, and they've done a good job, and Connor has kind of been the same. And that's unusual for an offensive lineman, as we know. But he did a good job. And we move him, tackle and guard, it doesn't seem to bother him, left, right. So he's a bit of an unfazed guy, and that's a good thing, and it doesn't sound too big. There are still things he is learning. He balks every now and then and makes a mistake and two and that kind of deal. But no, it's encouraging. It's something we weren't necessarily counting on, but it went well, and then the door opened a bit too, with Kyler's injury. It just opened the door for everyone to have more opportunities.
Q. There have been a lot of targeting calls. Are you comfortable with this?
KIRK FERENTZ: No. It's such a difficult call. What have I seen? It could have been Saturday night, someone in this game. I haven't seen that game much, but it's so hard to be a defensive guy who goes to football and then brakes. Maybe you can do it in a cartoon, but in real life it's hard to do. It's hard to play aggressive football. Having said that, I understand that, and we need those kinds of rules. I guess I'll go back to the beginning. I always felt like somebody in row 48 can say, oh, my gosh that person should be kicked out of the game, that's targeting, those blatant dirty games, that sort of thing. But I understand what we are trying to do. I understand. But it's really hard, and it's hard to be right if you're an official.
Q. Because it looks like offensive players –
KIRK FERENTZ: Yeah. And it's also an interesting discussion. So cut the blocks, that's what I swore not to cut. But offensive guys can be cut. I'll put it that way. Like the defensive guys will come and chop our rear. And then, conversely, if an offensive guy cuts, it's risky. This is a difficult work. And the rules made it harder, some of the rules we have. I don't know if I would cut more on offense outside of that little circumference in the middle there.
Q. The officials are talking about the mechanics of the game, it seemed to be the third pass to Tyrone Tracy, I know you had some sort of talk with the Big Ten, what did they say?
KIRK FERENTZ: In a nutshell, my personal opinion is that if anyone in the stadium is to have the final say, it should be the referee, the guy with the white hat. He deserved it. It's a position that comes with a lot of decision making. It is a difficult position. So for me at least if somebody's going to get booed, at least get booed for something that you did, not something that was given to you to break the bad news, one of those shots.
And the other thought that I have is that there should probably be a central place where these things are decided. Once we enter the Big Ten, we play a maximum of seven games per weekend. And two calls a game, maybe three. Do the math. You have different time slots. It can't be that hard. Just pick three or four people or do it nationwide, whatever.
The NFL does a lot of things right, and they probably have a better system than we do. Or maybe put it in the hands of coaches to challenge or not to challenge. I do not know. But we have to discuss it. It really is. It's unfortunate, and that's how it goes, I guess.
I will predict it. Nothing is going to happen in the near future, like the next three months. And I'm pretty sure.
Q. The offensive line, the defensive line can be the most questionable elements after losing a lot of talent. Fairly productive defensive line so far, maybe ahead of schedule. Offensive line to get there. Are there some areas where you might think we're just a little behind and you'd like to catch up?
KIRK FERENTZ: I don't know about the butt. But everything is linked to each other – like everything is so closely linked, and so on Saturday we made some progress offensively. But, again, I think a lot of it depends on what we do upstream, how we grow and develop there. Not that this is the end. But it's easier to have a good offensive team when your line slaps a bit, and the same in defense. Much of our success at the back rests on our good defensive work up front.
So when everyone is playing together it really gives you a chance so that's how quickly can we improve. And that has always been in a way the story of our teams. If we can improve as the season progresses, we will be lucky to have a good team. And if we don't, we'll be right somewhere in the middle or below it.
Everyone owns the property, or the older guys need to play better too. And I think for the most part they're all trying to stick to their end of the bargain.
Q. Since this is the last game before a very difficult part of the Big Ten game, is there perhaps a sense of urgency like closing the hatches?
KIRK FERENTZ: We've been doing this for three weeks, and I consider last week's game to be a tough game. I have a lot of respect for their football team and their staff. I got it last week when I was standing here, and I have more for them now. I think it's a very good football team. They gave us a lot of challenges the other day, a lot of problems.
And I have already said that too. I don't spend a lot of time worrying about my opponents. You do whatever work you do in the offseason, but I would say I'm not a fanatic and it's up to the coaches to depend on how much time they want to invest. For me, the focus has always been more on what's in the building here and what we can do to improve ourselves.
If you're good enough you're good enough, and all you can worry about is how fast you can improve, and obviously you have to face your opponent, and that's part of coaching too, and that's what we do during play week. But the most important goal is exactly what I said, we are trying to win games. Basically we have to move forward as a football team, and if we do, we will get what we deserve at the end of the year. But it's week after week right now, and it's still a challenge.
There are a lot of moving parts. There is so much going on right now. We can't predict what that will look like in October or even November. We still have four days until match day. So a lot of things can happen that way too.