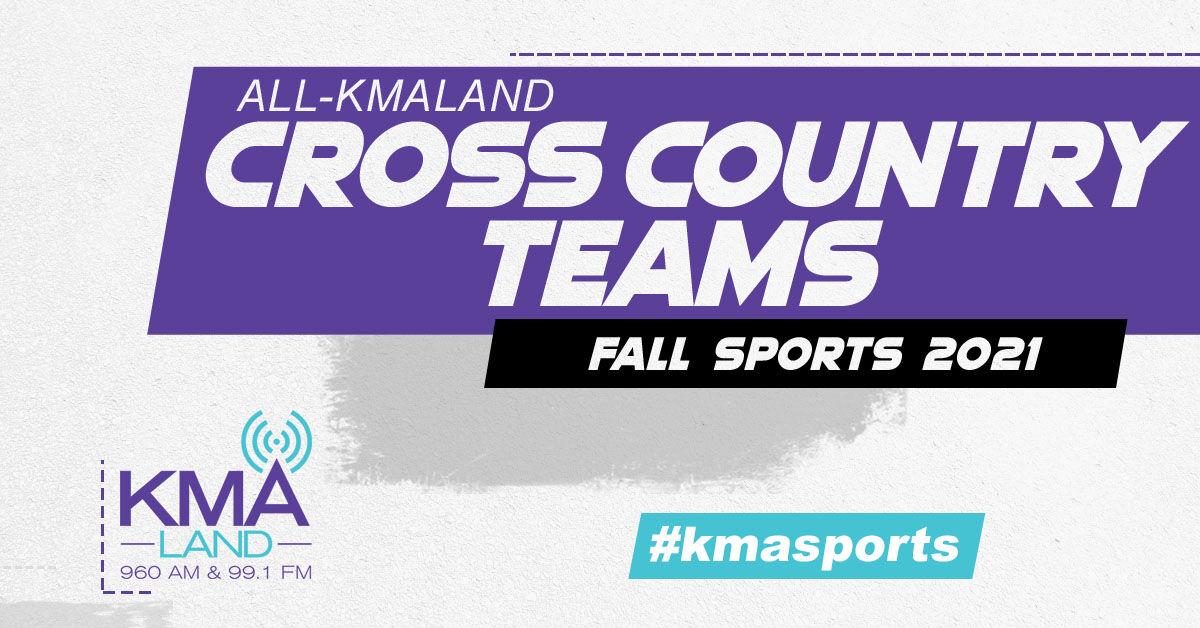 Introducing the 2021 All-KMAland Iowa, Missouri and Nebraska Cross Country Teams | Sports
[ad_1]
(KMAland) – For the first time, KMA Sports is honoring all the top runners from the three states in our coverage area.
Today, on day six of our week-long cross-country awards extravaganza, we are announcing a six-person team of All-KMAland Iowa, All-KMAland Missouri and All-KMAland Nebraska. Here they are!
BOYS ALL-KMALAND IOWA
Baylor Bergren, Senior, Red Oak
Bergren ended his solid prep career with a strong performance at Hawkeye Ten (fifth) and finished 28th overall. He also won his home course in early September.
Ethan Eichhorn, sophomore, Lewis Central
The KMAland Iowa Boys Runner of the Year did not disappoint in 2021, shattering Lewis Central school records, running to a conference title and collecting a state medal (13th). Did I mention he was just a sophomore?
William Gillis, Senior, Central Decatur
The Pride of Iowa conference champion was also second in the districts and 40th in the state.
Patrick Heffernan, Junior, Boyer Valley
Heffernan has made progress throughout the season. This earned him a Rolling Valley Conference title and a 10th place medal.
Bryant Keller, sophomore, Glenwood
One of the nicer surprises of the KMAland cross country scene, Keller led the Rams to a Hawkeye Ten tag team title behind a second place finish and picked up gear at Fort Dodge with an 11th place finish.
Colin Lillie, junior, Saint-Albert
Lillie was a legitimate contender for the State Championship. He ended his junior season with an eighth place after winning his state qualification. He also finished fourth at Hawkeye Ten.
Michael Pottebaum, senior, Catholic Kuemper
Pottebaum finished third at Hawkeye Ten behind Eichhorn and Keller and narrowly missed the bridge at Fort Dodge, finishing 21st.
ALL-KMALAND IOWA GIRLS
Kaia Bieker, Senior, Harlan
She ended her career with three Hawkeye Ten championship teams. She also took top honors individually in the conference and finished seventh.
Rylee Dunkin, Junior, Twin Cedars
She improved from her first year to her sophomore and did the same from her second to second season, leaving Fort Dodge with a 12th place chip.
Mayson Hartley, junior, Clarinda
The leader of the most surprising KMAland team has faced tough competition all year round. She also won the second state medal of her career, placing 11th in Class 2A.
Ava Rush, Junior, Atlantic
This multisport caught my attention with a victory at the start of the season at Clarinda. She remained strong throughout the year, finishing third at Hawkeye Ten and 48th in Class 3A in the state.
Lindsey Sonderman, freshman, Harlan
The 2021 KMAland Iowa Girls Runner of the Year made her prep debut with an early victory at Glenwood, followed by a conference title and a 16th place finish at State. The sky is the limit for her.
Courtney Sporrer, Senior, Logan-Magnolia
His remarkable career ended with a Western Iowa Conference title and an 11th place medal in Class 1A. She has played a monster role in the success of Lo-Ma's team over the course of her career, playing a hand in a pair of state championships and a runner-up this year.
Madison Sporrer, freshman, Logan-Magnolia
The young Sporrer has raced with her older sister all year and ahead of her to the state with a fifth place medal. I hate to say the obvious, but its future is bright.
ALL-KMALAND MISSOURI BOYS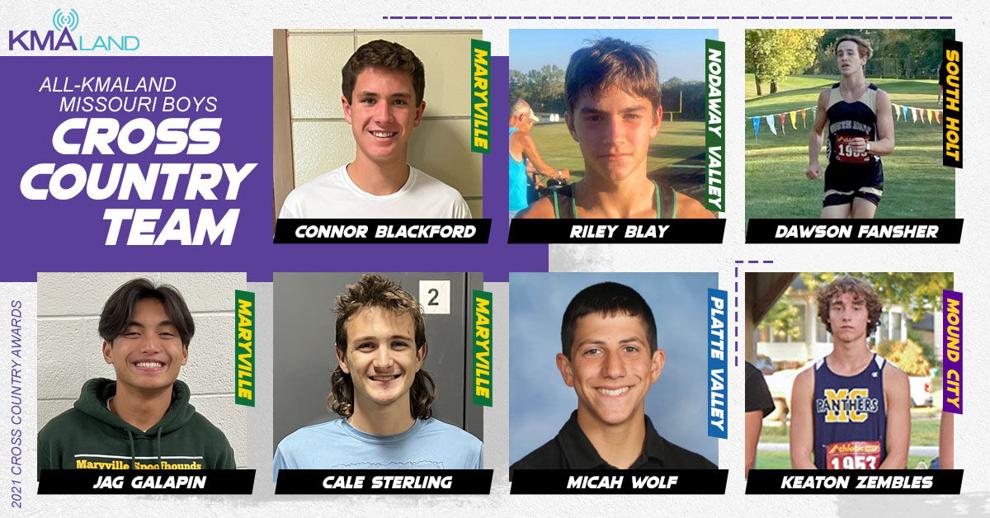 Connor Blackford, second year, Maryville
Much of the finalist team of the Spoofhounds, the talented young rider with a 25th place showing at the state
Riley Blay, sophomore, Nodaway Valley
The KMAland Missouri Runner of the Year joined his father and brother as state champions. It will only get better from here. It's scary.
Dawson Fansher, Senior, South Holt
Former KMAland Missouri Wrestler of the Year clinched the medal bar in his final race, taking 15th place in Class 1.
Jag Galapin, senior, Maryville
Leader of the wonderful Maryville team, Galapin finished sixth in Class 3.
Cale Sterling, Elder, Maryville
Sterling joined Galapin and Blackford leading the pack all year, finishing a place ahead of Blackford in the state.
Micah Wolf, Senior, Platte Valley
Wolf paced the Platte Valley team throughout the year and earned a 26th place finish in the state.
Keaton Zembles, second year, Mound City
He filled his recently graduated brother's shoes well and collected state memorabilia with an eighth place finish. It's going to be fun to see him chase Blay and try to make the same progress over the next couple of years.
ALL-KMALAND MISSOURI GIRLS
Jayla Irvine, freshman, East Atchison
The young rider had an impressive performance in the Class 1 championships, placing 28th in Colombia. Keep an eye out for her for years to come.
Kayte Pankau, freshman, Mound City
Pankau – another talented freshman – narrowly missed the medal bar, taking 18th place.
Caroline Pohren, first year, Maryville
Pohren is another talented young runner from Show-Me State. She took 133rd in the Class 3 state race.
Jaclyn Riedinger, junior, North Andrew
Riedinger led the Cardinals on a trip to the United States as a team and was 27th.
Andrea Riley, junior, Platte Valley
Riley had a strong season and was consistently near the top of almost every competition, including the State, where she was 16th.
Hayleigh Vinzant, Senior, North Nodaway
William Woods' engagement concluded his high school career by finishing 62nd in Class 1.
Aubrey Watkins, Senior, Rock Port
KMAland Missouri Girls Runner of the Year had fun battles with Riley and ended the season sneaking onto the medal bar in 14th place.
ALL-KMALAND NEBRASKA BOYS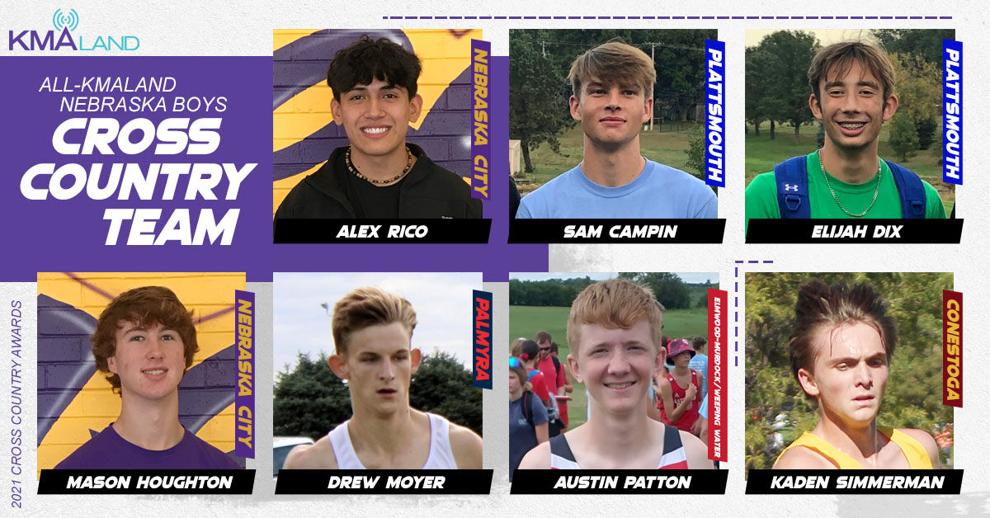 Alejandro Rico Avalos, Junior, Nebraska City
A favorite for the Pioneers, he finished 10th in the Districts to help his team qualify for the state. Then he followed with a performance in 44th place.
Sam Campin, Senior, Plattsmouth
The KMAland Nebraska Boys Rider of the Year worked his way through injuries and illnesses to reach the medal bar again, placing 15th in Class B.
Elijah Dix, sophomore, Plattsmouth
Dix pushed Campin all season. He finished ahead of him in Districts (ninth) and just seven places behind him at state level in 2022.
Mason Houghton, sophomore, Nebraska City
Another essential part of a team qualification, Houghton made his presence known to KMA Sports on September 7 when he finished third at Clarinda. He followed up with stronger encounters and finished 42nd overall.
Drew Moyer, Junior, Palmyra
Moyer started his state meet strong, posting the 14th fastest time after one mile. He finally ended his season settling for 19th place, five places better than his result last year.
Austin Patton, Junior, Elmwood-Murdock / Crying Water
Patton clinched the top third of Class C, placing 40th out of 120 runners after qualifying for the state by taking 13th.
Kaden Simmerman, junior, Conestoga
Simmerman has continuously improved throughout the season, and the result has been a state trip. He finished 46th at Kearney.
GIRLS FROM NEBRASKA ALL-KMALAND
Lilyan Becker, First year, Auburn
A name to pay attention to in the future, Becker did not disappoint. She finished 24th in the state, the fifth highest of all freshmen in Class C. I'm looking for her to build on that next year.
Natalie Briggs, junior, Plattsmouth
Briggs spearheaded the Blue Devils' return to the state and led them to Kearney with a 29th place finish.
Emily Frey, second year, Palmyra
Frey shone at the state, taking fifth place in Class D while leading his team to fifth place. I think there are great things in store for him.
Mira Fosmer, junior, Louisville
Fosmer clocked a quick first mile at Kearney for a 34th place in Class C after taking sixth place in his district competition.
Danie Parriott, Senior, Conestoga
KMAland Girls Nebraska Runner of the Year ended her career with a fifth place finish. It was his third top five in the state, and that includes a sophomore state championship.
Lillian Thomas, Senior, Falls City
The Ohio transplant kicked off this season, taking 11th place in its district competition and 29th in Class C.
Mila Wehrbein, freshman, Plattsmouth
Wehrbein has been a nice addition to Coach Todd Nott's squad this year. She was 11th in Districts and 62nd in State. She has also challenged Briggs throughout the season as Plattsmouth's top runner.
[ad_2]