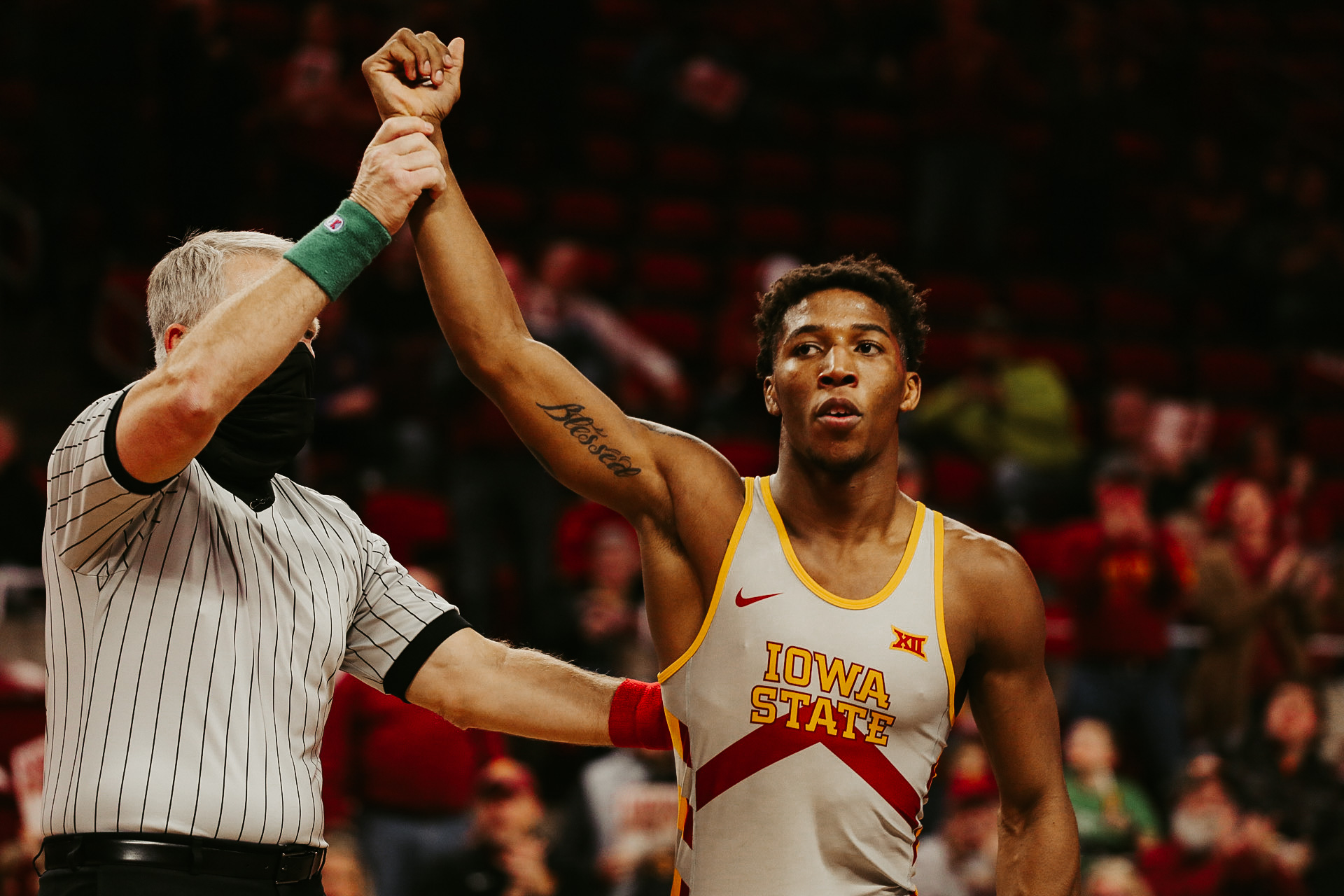 Iowa State's No. 11 beats Wyoming 32-6 on the road – CycloneFanatic.com
The following is a press release from Iowa State Athletic Communications
LARAMIE, Wyoming — Iowa State (6-1, 1-0 Big 12) won eight games Friday night in the Big 12 opener against Wyoming as the Cyclones prevailed 32-6.
The Cyclones picked up four wins with bonus points, including drops of No. 1 David Carr at 157 pounds and Isaac Judge at 165.
Iowa State opened the duel at 125 pounds, as No. 24 Kysen Terukina took a 7-6 decision over Jake Svihel. Terukina trailed 5-1 at the end of the second period before taking the win. At 133 pounds, Ramazan Attasauov dominated in a major 12-3 decision over No. 33 Job Greenwood. A strikeout and two near-drop points in the first period sparked Attasauov before scoring five points in the third period for the win.
At 141 pounds, No. 11 Ian Parker beat Chase Zollmann by major decision 11-3. Parker led 4-0 early in the third period before adding a pair of takedowns. At 149 pounds, No. 23 Jarrett Degen beat Jaron Jensen 7-4. Degen capitalized on a second period breakout to take a 5-4 lead before adding one out with :38 to go for the win.
Carr led 8-3 in the second period when he recorded the fall on Darren Green in 3:54. The fall was the fourth straight hairpin for Carr and the 44and-victory in a row for the defending national champion. At 165 pounds, Judge was leading 2-0 early in the first period when he pinned No. 15 Cole Moody in 1:25, extending Iowa State's lead to 26-0.
No. 12 Hayden Hastings used a third-period breakout and a point for driving time to beat No. 20 Joel Devine 2-0. At 184 pounds, No. 9 Marcus Coleman recorded one strikeout with :33 left to take a 3-1 lead over No. 17 Tate Samuelson. Samuelson escaped with :05 left, but Coleman added a point for driving time for the 4-2 win.
The star match of the night came at 197 pounds, as No. 13 Yonger Bastida took on No. 3 Stephen Buchanan. Bastida recorded a takedown with :25 left in the first period for the first points. Bastida added another takedown with 1:32 left in the third period, but a takedown from Buchanan with 24 left sent the game to a sudden win. With: 36 remaining in a sudden victory, Buchanan picked up a strikeout for the 6-4 win. Iowa State closed out the duel with a 12-5 win over No. 29 Sam Schuyler at heavyweight. Schuyler led 5-1 early in the third period before registering three eliminations.
Iowa State returns to action Sunday with a pair of duels in Belgrade, Mont. Against MSU-Northern and Providence. Live results will be available on TrackWrestling.com.
FINAL RESULTS – No. 11 Iowa State 32, Wyoming 6
125 – #24 Kysen Terukina (ISU) Dec. Jake Svihel, 7-6
133 – Ramazan Attasauov (ISU) major Dec. #33 Greenwood Jobs, 12-3
141 – #11 Ian Parker (ISU) major Dec. Chase Zollman, 11-3
149 – #23 Jarrett Degen (ISU) dec. Jaron Jensen, 7-4
157 – #1 David Carr (ISU) falls on Darren Green, 3:54
165 – Isaac Judge (ISU) drops #15 Cole Moody, 1:25
174 – #12 Hayden Hastings (WYO) Dec. #20 Joel Devine, 2-0
184 – #9 Marcus Coleman (ISU) Dec. #17Tate Samuelson, 4-2
197 – #3 Stephen Buchanan (WYO) Dec. #13 Younger Bastida, 6-4 (SV)
285 – #29 Sam Schuyler (ISU) Dec. Terren Swartz, 12-5