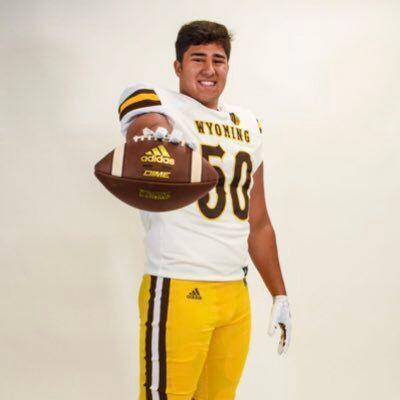 Johnsen's D1 dream comes full circle with Wyoming commitment | Sports
(Logan) – Rex Johnsen of Logan-Magnolia will play college football while living his lifelong dream at the University of Wyoming.
"It was my dream and my goal to play Division I football," Johnsen said Thursday in Upon Further Review. "Making it happen makes me want to work harder at this level."
While he has long dreamed of playing college football, Johnsen admits it was a whirlwind route to Wyoming.
"I didn't know what was going to happen," he said. "I went in the offseason and got a taste of Wyoming. I knew it was my home for the next four or five years."
Johnsen says there was a lot to like about the Laramie-based school and its football program, run by former Nebraska assistant Craig Bohl.
"The city was great and it's a beautiful campus," Johnsen said. "I loved the coaches and the facilities are top notch. I felt like this was where I was going to beat my best."
His size and athleticism made him an intriguing college recruit.
"I've always been a bigger kid," he said. "Once I got into high school, the coaches started to notice. I decided I wanted to take this seriously and focus on my future."
Johnsen chose Wyoming over the interests of the state of Iowa, Nebraska, and North Dakota.
"I really got a taste for Iowa State and Nebraska," he said. "But Wyoming felt right at home and where I really wanted to go."
Johnsen, a Class A All-State First Team offensive lineman, hopes to show off his athleticism at the Mountain West Conference.
"They love me for my athletic ability," he said. "They like to have athletic offensive linemen who can move and pull fans. I'm very aggressive in my wrestling background. I'm quick on the ball, and that will add a factor to the offensive line in Wyoming."
The transition from low-grade 11-man football to Division I is never easy, but Johnsen says he will be patient and work.
"I want to participate in the weightlifting program for next summer and gain a lot of muscle."
Johnsen's long-term goal is to contribute to the Cowboys and eventually play on Sunday.
"I want to start my sophomore year and would love to play in the NFL," he said. "That's what I'm going to work for."
Click below to hear Johnsen's full interview.