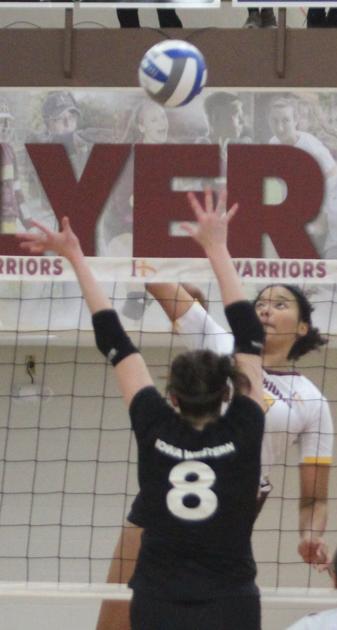 JUCO Volleyball: IHCC No.16 bounces back at Iowa-Missouri Challenge | Sports
[ad_1]
MARSHALLTOWN – The Indian Hills No. 16 volleyball team returned to the winning column on Friday night with a 3-1 victory over Jefferson College on opening night of the inaugural Iowa-Missouri Challenge, hosted by Marshalltown Community College . The Warriors improve to 13-5 overall that year.
After losing the first set to the Vikings, Indian Hills rebounded to win the next three sets, 25-13, 27-25, 25-20. With the win, the Warriors put an end to a four-game slippage.
Sophomore Precious Daley was the driving force behind the Warriors on both sides of the ball. Daley led the team with 15 kills on 31 attempts for a 0.226 save percentage. On the defensive front, Daley totaled three solo blocks, a high for the team, with 11 kills, a career high for the center blocker.
Sophomore Zara McCauley provided a career effort Friday after setting off a spark off the bench for the Warriors. McCAuley had a career-high 10 kills in 26 total attempts to help win at Indian Hills.
Freshman Asra Akcay appeared in a career-high four set for the Warriors and added three aces on serve. Akcay also posted two total blocks in the game.
Brooke Amann added nine total kills and four aces, a high for the team. Anja Vranic anchored the defense with 24 digs.
Indian Hills returns to action at the Iowa-Missouri Challenge on Saturday, starting with a game against Mineral Area at 9 a.m. The Warriors will finish the Iowa-Missouri Challenge on Saturday night against Missouri State-West Plains at 5 p.m.
[ad_2]