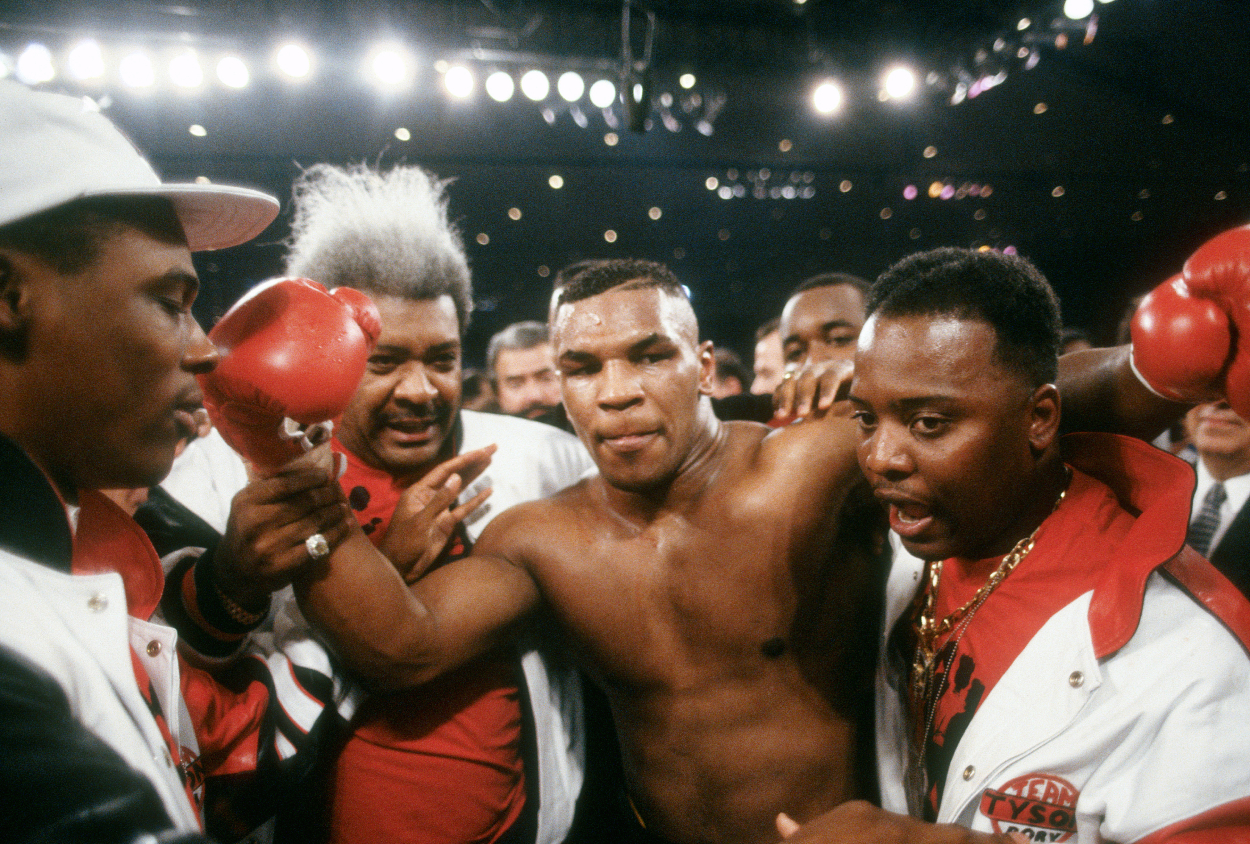 Mike Tyson explains how the 'Tax Lady' predicted he would fight again
Mike Tyson has told many crazy stories. He spoke of his 40 arrests before he was 13. He opened up about his time in prison. Tyson has been on top of the world and he has seen the bottom.
Then there is the tax lady. Last week, Tyson told how a lady working at the IRS predicted he would return to the boxing ring, despite saying he would never fight again.
Mike Tyson was one of the most dominant fighters of his time
Tyson went from a life of crime and poverty to becoming the world's youngest heavyweight boxing champion. It was thanks to all those tween arrests that Tyson was able to make his way into boxing.
Tyron spent time at the Tryon School for Boys, a juvenile detention center. There he met a former boxer named Bobby Stewart, who was working as an adviser. Stewart taught young Tyson the sport and eventually connected him with legendary trainer Cus D'Amato.
Tyson's mother died when he was 16 and D'Amato took him under his wing. They became close and bonded when Tyson turned pro.
He started his professional career with 37 consecutive victories. Tyson won his first 19 fights by knockout, 12 of them in the first round.
His career was put on hold due to a three-year prison sentence, and when he returned to the ring, he just wasn't the same. Tyson finished his career with 50 wins against six losses. Of these 50 victories, 44 of them came by knockout.
Mike Tyson explains how the "tax" predicted his return
In November 2020, Tyson made his highly anticipated return to the ring for an exhibition match against former champion Roy Jones Jr. There had been numerous reports that Tyson might return to the ring, possibly against Evander Holyfield, but this never materialized.
It had been 15 years since his last professional fight, which ended in a loss against Kevin McBride. Since then, he hadn't fought and he never intended to fight again.
He should have listened to the lady who worked for the taxman, who kept telling him to get back in the ring. Tyson shared this story last week during his Hotboxing with Mike Tyson Podcast. Tyson told this story to his guest, Joe Rogan.
"Check that out," Tyson told Rogan. "The tax lady always called me saying, 'Mr. Tyson, I'm sure you have something to do. I know you're going to fight again so why don't you just fight and pay your bills and you'll be fine.
"It's the IRS, and I'm like, 'what, are you serious?' She said, 'Just fight. We know you're going to fight again. That's the lady from the IRS talking to me like that.
"I said, ma'am, I won't fight anymore. This lady finally died, and I fought. Isn't that crazy? She was right. In a million years, I never thought of fighting again. She had to know.
Tyson and Jones Jr. put on a show
The tax lady was right. Tyson, at 54, fought Jones Jr. in a fight where Tyson impressed. Although many believe he won the fight, as it was billed as an exhibition match, no winner was declared.
The fight generated over $80 million in PPV money. According to USA todaythe 1.6 million pay-per-view buys rank the fight among the top 10 combat sports events.
After the fight, Tyson said he was happy. He said he wouldn't rule out another show.
"I'm happy with a draw," Tyson said, according to the LA Times. "I thought I had won but I'm happy because we entertained the fans.
"I would absolutely do it again. I'm just happy that I was able to do eight laps. Knockouts don't mean anything, you have to be able to go the distance.
The tax lady really knew something.
RELATED: Mike Tyson Once Created the Bizarre Scene If He and Jesus Were to Meet