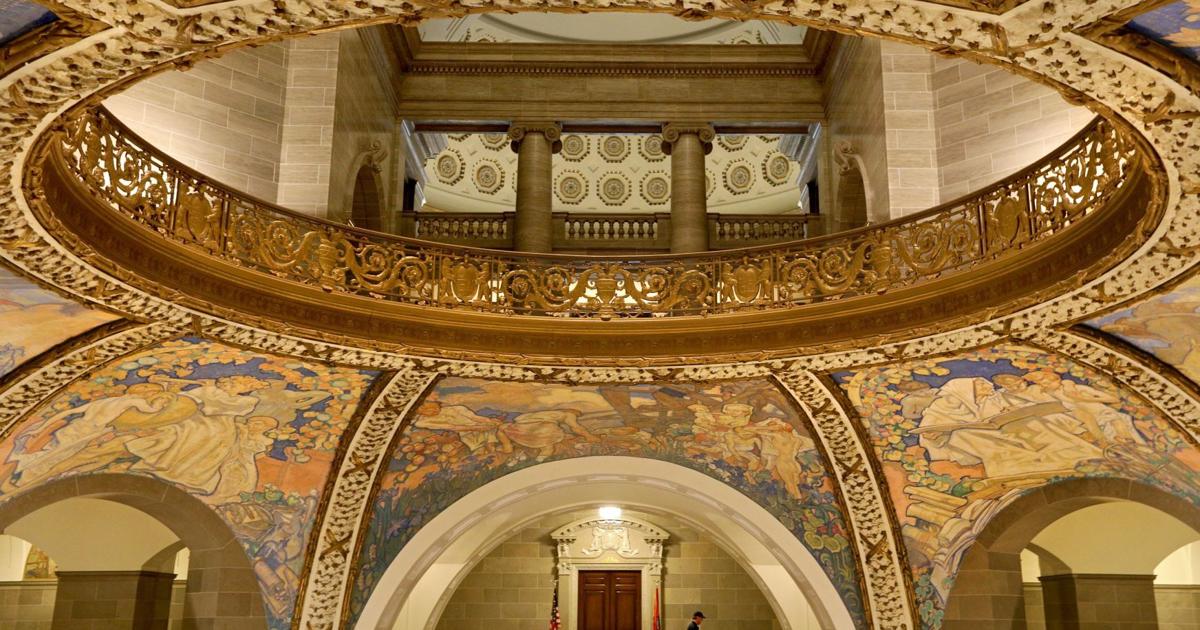 Missouri Lawmakers Approve Election Year Budget With Tax Refunds, Money For Construction | Policy
By Kurt Erickson and Grace Zokovitch St. Louis Post-Dispatch

JEFFERSON CITY — Missouri lawmakers put the finishing touches to a $49 billion spending plan on Friday, giving themselves plenty of ribbons to cut and election-year freebies to hand out.
The budget for the fiscal year beginning July 1 includes pay increases for low-paid teachers and refund checks of up to $500 for taxpayers thanks to an influx of tax revenue and federal pandemic assistance.
The 19-bill budget package is now heading to Gov. Mike Parson's desk, giving the House and Senate a week to finalize other priorities before heading into the 2022 election campaign.
Representative Peter Merideth, D-St. Louis, who is the ranking minority member of the House Budget Committee, said Friday marked the first time he did not vote against all budget bills.
"This is by far the best budget the state has seen that I've seen," Merideth said. "There are some very good investments here."
After years of urging restraint and saying things like expanding Medicaid were too expensive to fully fund, the Republican-led legislature found itself staring at a huge pile of cash this year as the state withdraws from the coronavirus pandemic.
Money continues to flow beyond expectations. Through April, net general revenue was up 9.4% from a year ago.
In fact, House Budget Committee Chairman Cody Smith, R-Carthage, said that even with the tax refund plan, the state will still have $1 billion unspent in its overall checkbook at this time next year.
Some diehard Republicans called the spending plan bloated.
"Today, small government ended in Missouri," said Rep. Brian Seitz, R-Branson. reflects the will of the people. This budget is not that.
Sen. Denny Hoskins, R-Warrensburg, has warned that big spending this year could lead to budget cuts next year.
"We will have to make tough decisions next year and beyond," Hoskins said.
Under the plan, teacher salaries would rise to a base level of $38,000 a year from a national low of $25,000. The cost: $37 million.
School districts will also receive a $214 million infusion to cover a portion of transportation costs, marking the first time in 30 years that the state has fully funded its share of the program.
The additional funding for schools is intended to address staffing shortages that have led nearly a quarter of school districts across the state to go to four-day school weeks.
"This is a major and unprecedented investment in public education," Smith said.
Big-ticket items like the state Medicaid program are fully funded under the plan. The funding cost of the voter-approved expansion of the MO HealthNet program is set at $2.5 billion.
Nursing homes will receive $200 million as the state increases the fees it pays to facilities to care for low-income Missourians.
Higher education also scored additional dollars for operating costs and construction projects. They included $5 million for a program designed to train high school students to work a day at the National Geospatial-Intelligence Agency, which is moving its campus to a site north of downtown St. Louis.
Lawmakers earmarked $100 million to repair and upgrade rural roads as part of a request by Parson. Cities could also take advantage of a $75 million cost-sharing program for road and bridge construction projects.
The Jefferson County Port Authority would receive $25 million to expand its port, which plans to install a container shipping terminal.
Negotiators also budgeted $2.4 million to restore Amtrak service between St. Louis and Kansas City to two round trips a day.
Rep. Rasheen Aldridge, D-St. Louis, welcomed the restoration of the frequency of passenger rail service.
"Transportation is really critical in this state," Aldridge said.
Not all budget includes money to build things. In the Department of Public Safety budget, lawmakers set aside $3.2 million to pay for the demolition of abandoned homes owned by the city of St. Louis in an effort to combat the blight.
The budget also provides $49.5 million to pay a settlement with correctional officers, who successfully sued to force the Department of Corrections to pay overtime. The original jury prize was more than double that amount.
"It's something that's been hanging over the budget for a number of years," Smith said.
Lawmakers have agreed to fund $500 million to shore up Missouri's state employee retirement system.
"I think it's one of the best uses of the money we have," Smith said.
Missouri state-run nursing homes for veterans will receive enough funding to fully reopen after spending the last year operating at limited capacity due to a shortage of nurses and staff. That was good news for Sen. Jill Schupp, D-Creve Coeur.
"The homes of our veterans are going through difficult times. Their population is lower than it should be because they don't have the staff and they can't bring in more veterans to serve. And it's a vicious circle because we can't tap into federal funds if we don't have a system in place. And all of those things are not going away right now. So I think that will help us move forward," Schupp said.
At the Department of Mental Health, the budget includes more than $16 million for a mental health helpline program similar to the 911 hotline for emergency calls.
One of the few losers in the budget process was Attorney General Eric Schmitt, who failed to secure $500,000 to hire five lawyers in the solicitor general's unit. The decision was a bipartisan rebuke to Schmitt's aggressive streak of lawsuits against school districts over their mask rules.
Lawmakers also approved a $3 billion budget for construction projects and other individual initiatives using federal funds from the American Rescue Plan Act.
This plan includes $6 million to demolish the inactive Jamestown Mall and an additional $23 million for a new law enforcement center in St. Louis County. Both projects were pushed by Sen. Brian Williams, D-University City.
The Senate inserted $2 million for a sports complex in Chesterfield and $2.5 million to upgrade the Amtrak station in Kirkwood.
But the plan also cuts $70 million in funding to start building the Rock Island Pedestrian and Bike Path.
The University of Missouri-St. The Louis campus is online for a makeover. The budget sets aside $40 million in matching funds for a so-called "Campus of the Future" involving several new buildings and the demolition of old facilities.
Members of the House complained that they had no say in the long list of bills inserted by the Senate.
"This particular budget bill is just pork," said Rep. Jim Murphy, a Republican from southern St. Louis County.
The rebate plan would send up to $500 in rebates to taxpayers earning up to $150,000 a year. The cost of the program is capped at $500 million, which means the total amount sent to individuals could be lower.
"It makes a difference in the wallets of Missourians," said Rep. Phil Christofanelli, R-St. Peters.
Kurt Erickson • 573-556-6181
@KurtEricksonPD on Twitter