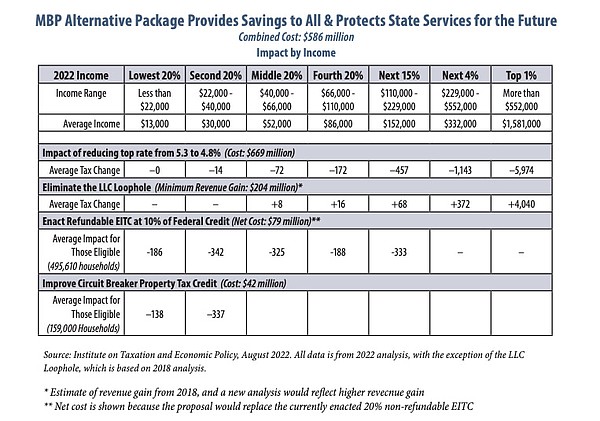 Missouri nonprofit offers alternative to governor's tax cut proposal
While Missouri lawmakers have delayed the start of the special legislative session to chart a clear path on tax cuts, a nonprofit public policy analysis offers an alternative.
Missouri Budget Project, a St. Louis-based nonprofit that offers research and analysis on state budget, tax and economic issues, released an alternative tax cut and reform proposal on September 1, calling the plan orchestrated by Gov. Mike Parson a "potential fiscal bomb." "
Parson, a Republican, has called on lawmakers to return to the capital on September 6 for a special legislative session focused on expanding farm tax credits and what he calls the biggest tax cut in history. from Missouri.
A week before the start date, House and Senate leaders announced in a joint statement Aug. 31 that they were delaying the start of the special session by a week to continue discussing specific details of the reduction in taxes and agricultural credits.
After vetoing a tax refund program passed by lawmakers in the spring and citing a lack of funding and minimal impact on low-income households, Parson proposed permanent tax relief by lowering the tax rate. the highest from 5.3% to 4.8%, increasing the standard deduction to $2,000 for individuals and $4,000 for couples, and eliminating the bottom tax bracket.
Together, Parson said the measures mean Missouri would not tax the first $16,000 of income for individuals and $32,000 of income for couples.
"The fact is, every Missourian who pays taxes, regardless of background, income or job description, will see a deduction from their tax liability," Parson said when the proposal was announced. "And that's a win for all Missourians."
The Missouri Budget Project has a different analysis.
The nonprofit estimates that the governor's proposal would exclude one-third of Missourians, especially those on fixed incomes such as the elderly and people with disabilities, and would require possible reductions in state spending on health care. education, public safety, health care and other needs.
Missouri Budget Project has offered a new proposal for lawmakers to consider as they prepare to enter the Capitol chambers in mid-September. It keeps the governor's top tax rate deduction from 5.3% to 4.8%, but also calls for the elimination of Missouri's corporate income tax exemption and strengthening tax credits for working families and circuit breakers.
Amy Blouin, president and CEO of the Missouri Budget Project, said the plan ensures every Missourian sees tax savings, one of Parson's goals for permanent relief.
"There are concrete ways policymakers can provide real tax relief that helps struggling families make ends meet," Blouin said in a press release. "Too often, tax proposals have focused on policies that offer freebies to the richest, and little or nothing to those who struggle the most to make ends meet."
According to an analysis of the Missouri Budget Proposal, the bottom 20% of Missouri residents (taxpayers earning less than $22,000 a year) could receive an $11 tax cut under the plan proposed by the governor. The top 1% (taxpayers earning $552,000 a year) could benefit from a tax reduction of $6,024.
Under the nonprofit's proposed plan, the same bottom 20% could get a $324 tax cut just through a combination of tax credits. The top 1% would receive a tax reduction of $5,974, but pay an additional $4,040, for a net reduction of $1,934.
Missouri's budget proposal posits that the governor's tax cut is based on the temporary influx of federal funds that have flowed into the state to combat the COVID-19 pandemic, and therefore could result in funding cuts state services.
Parson said his office had been studying the sustainability of his tax cut for more than a year and had not incorporated federal funds into its budgeting.
"We don't even factor in all the federal money, so it's all set aside and we know that has to be factored in," Parson told reporters in August. "That's the general revenue that we're talking about today and can we sustain that in the state. We think with that number we can. We think that's a very conservative number to be able to do that, but it will have no effect on incoming federal dollars.
But the nonprofit suggests that Missouri's record revenues are partly supported by the billions of dollars Missouri families and businesses have received directly from the federal government during the pandemic, which has temporarily boosted activity. economy and, therefore, state revenues.
The governor's office and Missouri's budget proposal are also at odds over the impact of its tax cut on state revenue, with Parson's team citing a $700 million cut and the organization to nonprofit predicting a loss of $950 million in the first year of implementation, citing the Institute on Tax and Economic Policy.
The Missouri Budget Project's proposal has an annual cost of $586 million, according to its projections. Eliminating the corporate income tax exemption, also known as the "LLC loophole," helps lower the price.