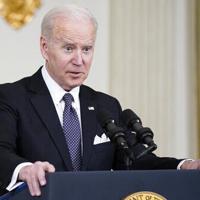 Nicklaus: Tax on billionaires would distort markets and be difficult to enforce | David Nicklaus
Jeff Bezos and Elon Musk set tempting fiscal targets, but President Joe Biden's proposed "billionaire tax" is not the right way to pursue them.
It's not just for billionaires, either. Biden's budget proposes a new minimum tax of 20% on the income of anyone with a net worth over $100 million. It also expands the definition of income to include unrealized capital gains, which were previously not subject to tax.
So if Musk's Tesla shares were to appreciate by $47 billion, as they did last year, he would owe more than $9 billion in taxes on the paper gain. Biden's proposal would spread those payments out over five years.
The president sees it as a major new revenue stream, bringing in $360 billion over a decade. It would only be paid by the top 0.01% of Americans.
So what's not to like? On the one hand, it's probably unconstitutional. The Supreme Court has already rejected wealth taxes and would likely see the same. "When you call it a billionaire tax and it's triggered by wealth, you're in a pretty big hole constitutionally speaking," said Steven Rosenthal, senior fellow at the Tax Policy Center in Washington.
On the other hand, the new tax would create an administrative nightmare. Valuing Tesla stocks is straightforward, but valuing private businesses, art collections, and real estate is not. One can imagine the already understaffed Internal Revenue Service getting bogged down in endless disputes over the value of ranches, Renoirs and sports franchises.
Additionally, companies could choose to remain private so that the IRS cannot uncover their true value. If that happens, average investors may never have the chance to invest in the next Amazon or Tesla.
"It would certainly change the math for companies that are eventually considering going public," said Michele Meckfessel, associate professor of accounting at the University of Missouri-St. Louis. "What does this do to the stability and innovation of our capital markets? We should all care about that.
Meckfessel raises another thorny issue: Asset values ​​go down and up, and Biden isn't clear how the downsides would be handled. The optics could be difficult if, for example, a repeat of the 2008 financial crisis resulted in large tax refunds for billionaire bankers.
No other developed country taxes paper earnings as income. Several European countries have dropped their wealth taxes due to capital flight and high administrative costs, the same issues that are likely to arise with Biden's billionaire tax.
Biden's budget contains a related proposal that makes sense. He offers to close what is sometimes called the death angel loophole.
Current law taxes capital gains on the sale of property. If the owner dies, however, the heirs never pay tax on the capital gain that occurred during his lifetime.
Biden wants to change that. If you die with assets over $5 million ($10 million for a married couple), he would tax your unrealized gains. This would be much easier than taxing the wealthy's earnings annually, since their assets would already have to be assessed for estate purposes.
"I am sensitive to the idea that there is a huge loophole that benefits the very rich," Rosenthal said. "In my opinion, settling to death is the best approach."
It wouldn't generate as much revenue as the so-called billionaire tax, but taxing capital gains on death would be a major step towards fairness. It should also pass constitutional scrutiny, which is important if we want a tax that can actually be collected.