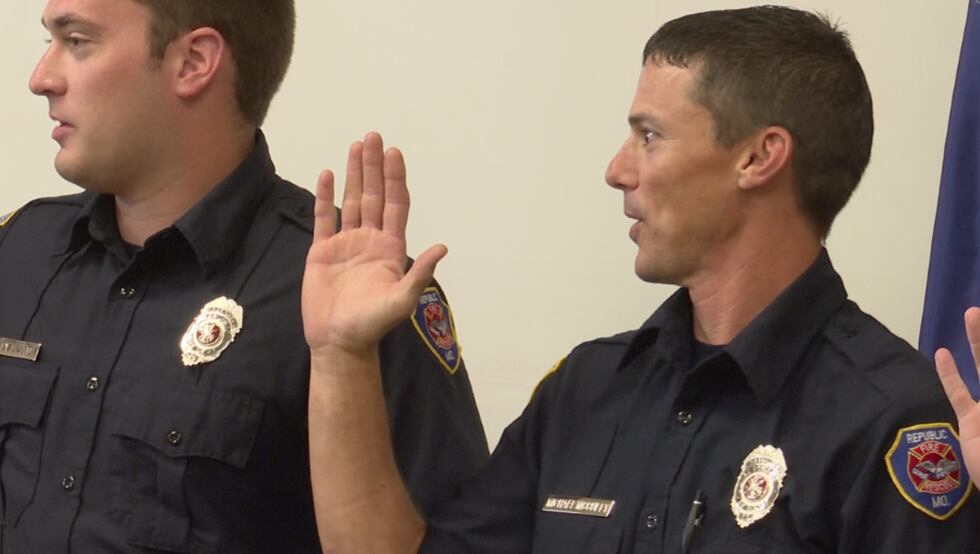 Republic Police and Fire Department add staff through tax
REPUBLIC, Mo. (KY3) – A public safety sales tax passed by Republic voters is driving more police and fire department hiring.
On Friday, the Republic Fire Department inducted six new trainee firefighters. Fire Chief Duane Compton said the city started fundraising in April. It should last for years. Chief Compton said the department plans to hire at least six additional firefighters and three battalion chiefs.
Michael McCully, a rookie, said he returned to the fire department after nearly ten years.
"The fire department changes all the time. I have a lot of work to do to catch up," McCully said. "But it's been great to have my family here to support me and to keep coming to support me, to be there for me."
McCully said he started out as a firefighter.
"I had a 13-year career before I left the fire department, seven of which were with Republic," McCully said.
McCully said he is back now that his second family has welcomed him with open arms.
"It's brother and brotherhood," McCully said. "It's a relationship like you can't describe. No one understands unless you've been in it.
McCully is one of 6 recruits to come to the fire department through the Public Safety Sales Tax. Chief Compton said this tax helps them serve the growing community.
"Growth in our eyes is a good thing to have," Compton said. "We have been stuck for years understaffed. We couldn't really take care of what we had to do.
Lt. Jamie Burks said the Republic Police Department is also reaping the benefits of the tax.
"It gives us that feeling of, I don't mean relief, but at least we know there's more help coming because our call volume is increasing every year," Burks said.
Lt. Burks said the police department has already hired three officers and plans to hire more this summer.
It's a familiar experience for McCully, but he said it was different.
"I was born to be a firefighter," McCally said. "It's what I've always loved doing, and I'm so excited. I'm happy to be back there and excited to end my career with it.
To report a correction or typo, please email [email protected]
Copyright 2022 KY3. All rights reserved.