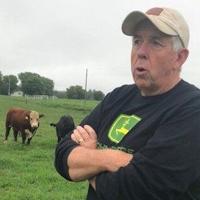 Rural Missouri watches Parson consider veto of tax credit plan | Policy
JEFFERSON CITY — Although Gov. Mike Parson is a cattle rancher and major supporter of agriculture, he plans to exercise his veto power over a package of tax credits designed to help rural Missouri.
With the governor planning to issue a series of vetoes on Friday, the disappearance of the legislation would jeopardize several rural tax credits after they expire in January.
The legislation would reauthorize tax credits for young farmers, meatpacking plants, the charcoal-making industry, ethanol retailers and biodiesel producers.
The problem for Parson is that the legislation approved by the House and Senate does not extend the tax credits for a long enough period. His office did not confirm this week whether a veto is imminent.
Under the law, the tax credits would expire in two years. Parson, before lawmakers adjourned in May, had asked for a six-year sunset clause.
The measure was sponsored in the House by Rep. Brad Pollitt, R-Sedalia, who said farmers need plenty of tax credits and incentives to continue supplying produce from their farms to markets.
Nonpartisan tax analysis shows the credits could cost the state's general revenue fund up to $40 million.
Farmers' groups were also pushing for a longer shelf life of tax credits.
"We are disappointed that the Legislature did not extend the programs for the full six years, but we appreciate the work they have been able to accomplish. We know Governor Parson will keep the best interests of farmers and ranchers in mind when considering the omnibus farm bill," said Eric Bohl, spokesman for the Missouri Farm Bureau.
Mike Deering, who oversees the Missouri Cattlemen's Association, said he wouldn't guess what Parson might do with the legislation.
"I'm not going to speculate on what gets a signing and what doesn't. I know Governor Mike Parson is a farmer and has always been a friend of farming and ranching families in this state. That's not going to change," said Deering, who campaigned with Parson in the 2020 election.
The legislation is the House Bill 1720.
Posted at 12:40 p.m. Wednesday, June 29.