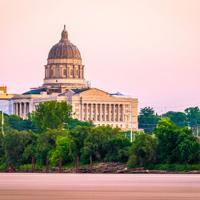 Sickles: Wage hikes needed to keep teachers in Missouri | News
(Rock Port) – Like those in Iowa, Missouri teachers are finding greener grass in other professions.
At least one administrator in northwest Missouri is among those calling for additional financial support to keep instructors out of education — and the state. In his State of the State address late last month, Missouri Governor Mike Parson called for raising the starting salary of teachers in the state. Parson's proposed budget includes $21.8 million to increase the starting salary for Missouri teachers to $38,000. According to the National Education Association, Missouri ranks 50th in the nation in teacher compensation, with a current starting salary of $32,000. Ethan Sickles is superintendent of the Rock Port R-2 School District. Sickles voiced his support for higher teacher salaries during a recent edition of KMA's "Morning Line" program.
"So far the governor has said he really wants to increase base salaries for teachers, which would be fantastic," Sickles said. "At the same time, you have to have that money to do it. I hope our state moves forward and would be able to help school districts in this regard. But, until we can fight wages and trying to push people back in the Rock Port area, that's always going to be a challenge."
Parson's budget for fiscal year 2023 allocates $3.56 billion to fund K-12 schools in Missouri. Sickles says many state teachers are quitting to take more lucrative jobs in other fields.
"It's a tough profession – it doesn't get any easier," he said. "The pay levels just don't compete with a lot of other professions right now. I hate to say it, but we've had a lot of kids progressing – in math, in science, really good at those – and these are a lot of the shortages that a lot of schools are seeing right now – a lot of these specialist type subjects at the high school level. But, these kids go there and they can find much better paying jobs in town in a career field that's very different from education."
Sickles adds that COVID-19 has made things miserable for individuals of all professions, not just instructors. However, Sickles thanks his staff for adjusting to the issues created by the lingering pandemic.
"We got lucky," Sickles said. "Our staff have gone out of their way to make sure that these students, when they're sick or quarantined, you walk down the hall and you see a student zooming in while the rest of the class is in session. We've been building it all the time, but that doesn't mean we're not trying to help these students stay in the classroom if they have to be home, or if that means getting fired. home – that kind of stuff."
Although student and teacher illnesses increased a few weeks ago in the Rock Port District due to COVID and other ailments, he says absenteeism has been minimal this week.