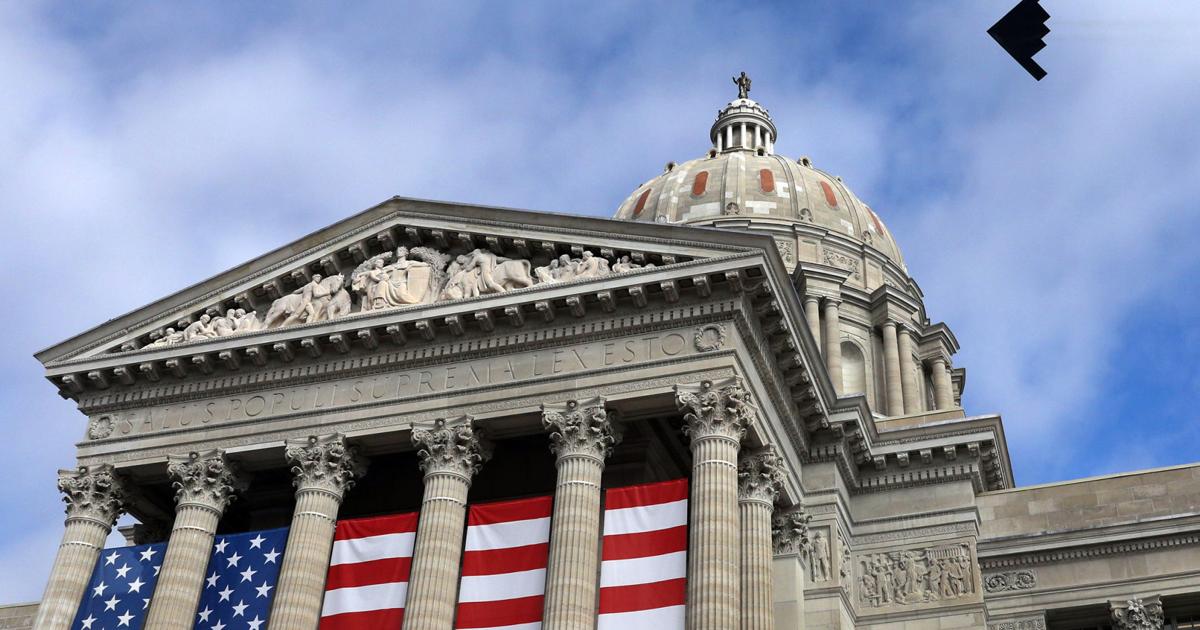 With recession looming, organization says Missouri should wait for tax cuts | Policy
JEFFERSON CITY — With the country teetering on the edge of a recession, a group that tracks Missouri's budget says Republican Gov. Mike Parson should drop plans to drastically cut the state's income tax rate.
Amy Blouin, director of the St. Louis-based Missouri Budget Project, told the Post-Dispatch on Thursday that cutting taxes during a recession could hamper the state's ability to provide basic services.
"Missouri is currently blessed with fiscal reserves thanks, in large part, to federal funding. Reducing state income taxes permanently because of this federal assistance is not fiscally sound policy. Coupled with any economic downturn, this would be devastating to Missouri's ability to fully fund our schools, public safety, health care and other critical needs," Blouin said.
Parson, who is in Europe this week, earlier called on lawmakers to return to the capital in the coming weeks to cut the current state tax rate to 4.8% from the current 5.4%, claiming that state coffers offer a chance to reduce the tax burden of Missourians.
Income taxes represent the largest source of revenue for the state at around $10 billion a year.
Rather than reducing the state's top income tax rate, Blouin said state lawmakers could consider other options to help low-income Missourians, such as increasing the tax credit. earned income tax.
A spokeswoman for Parson did not respond to a request for comment.
But a leading Republican budget expert said he remains in favor of the tax cut plan.
"Given the massive revenue growth we've had, I absolutely think we can afford to accelerate some tax rate reductions," State Treasurer Scott Fitzpatrick said during a briefing. interview Wednesday on KWOS radio in Jefferson City.
Fitzpatrick, a Shell Knob businessman, is a former chairman of the House Budget Committee. He is locked in a primary battle with Rep. David Gregory, R-Sunset Hills, for the state auditor position vacated by Democrat Nicole Galloway.
"I think we're already in a recession," Fitzpatrick said.
The U.S. Commerce Department reported on Thursday that the country's economy contracted from April to June for a second consecutive quarter, contracting at an annual rate of 0.9% and raising fears that the country could be closer to a recession.
The drop in gross domestic product followed a 1.6% annual decline from January to March. Consecutive quarters of declining GDP are an informal, but not definitive, indicator of a recession.
In Missouri, the state budget continues to exceed expectations.
According to Parson's budget office, net general revenue for the fiscal year ending June 30 increased 14.6% from $11.24 billion last year to $12.88 billion this year. .
Income tax revenue rose 11.8% for the year, from $8.92 billion last year to $9.97 billion this year.
Earlier this month, Parson met with GOP leaders in the House and Senate to discuss parameters for a special session.
In addition to reducing the tax rate, Parson wants to increase the standard deduction to $16,000 for single filers and $32,000 for joint filers.
This would mean that a taxpayer earning $16,000 or less would owe no state income tax. A married couple with a non-working spouse earning $32,000 or less also owes no state income tax.
The current standard deduction for single filers is $12,950 and $25,900 for joint filers.
The date of the extraordinary session has not been fixed.